March 2023
Salary increases, inflation and labour shortages
In recent months, organizations have been under mounting pressure to raise employee pay. In an already complex environment marked by the current labour shortage, another much-talked-about economic issue has influenced salary increase decisions: inflation.
Our most recent survey on salary increases showed that almost half of the organizations surveyed have reviewed their 2023 pay raise budget since last summer. In Canada, on average, organizations have set aside salary increase budgets amounting to 4.2% of total payroll, except where wage freezes have been implemented. This is the highest they've been since before the 2009 financial crisis. These findings show that organizations are continuing to adapt to a unique economic environment, with a labour market where employees have considerable bargaining power.
Pay raises represent a permanent increase in fixed costs, whereas the inflation experienced in recent months is expected to slow. In such an environment, organizations are trying to strike the right balance, so they can stay competitive in the employment market while remaining financially sustainable. They're trying not to implement major salary increases, which will have a long-term impact, in response to an inflationary environment that could stabilize very soon.
The change in the Consumer Price Index (CPI) is generally taken into account when setting salary increase budgets. It would be a mistake to use the CPI's year-on-year increase of 6.3% at December 31, 2022 as the basis for a projection to April 30, 2023. In fact, the average 6.3% increase in inflation for 2022 is the result of extremely high inflation early in the year (an annualized figure of 12.6% from January to April) followed by modest inflation for the rest of the year (annualized 3.3% from May to December). Consequently, if inflation over the first four months of 2023 continues at the same pace as the last eight months of 2022, the projected year-on-year increase at April 30, 2023, would be 3.3%, which is significantly lower than 6.3%.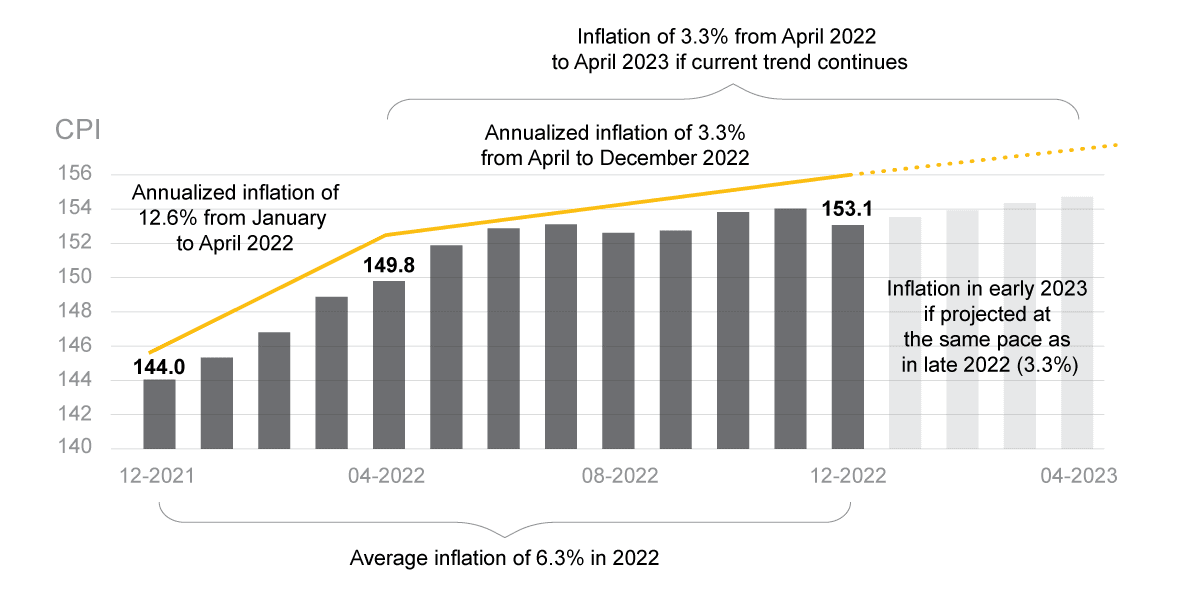 Although economic uncertainty still looms over the next few months, and the past doesn't predict the future, it's worth noting that inflation slowed down significantly in the last eight months of the year. At this time of year, when most organizations are starting their annual salary review cycle, they should keep this in mind as they make decisions.
To deal with the labour shortage, which may persist due to demographic conditions, other total rewards components that don't raise fixed costs should be explored. Faced with this conundrum, organizations would do well to be creative about choosing the right balance between monetary and non-monetary components if they're serious about standing out.
Would you like more information? Contact your Normandin Beaudry consultant or email us.