August 2019
2020 Salary Forecast

Quebec and Ontario among the most generous provinces
In the summer of 2019, 413 organizations—representing more than 1 million employees across Canada—took part in the ninth edition of the Salary Increase Survey. The data collected was rigorously analyzed by our compensation specialists and will allow you to identify patterns and trends that will be most useful to your decision-making process.
New this year! Explore our interactive platform and personalize your results according to six segments:
Province
Region
Organization type
Organization revenue
Business sector
Number of employees
Highlights
2019: A more generous year
With a Canadian average of 2.7%, salary increases granted in 2019 were 0.2% higher than what was forecast last year:
This rise applies to all Canadian provinces.
Quebec and Ontario were the most generous provinces with increases granted of 3.1% and 2.8%, respectively.
Increases granted in Quebec have surpassed the 3% threshold, a level not seen since 2009. As for forecasts for 2020, Quebec and Alberta lead the way in optimism with projected increases of 2.9%, with Ontario trailing close behind at 2.8%.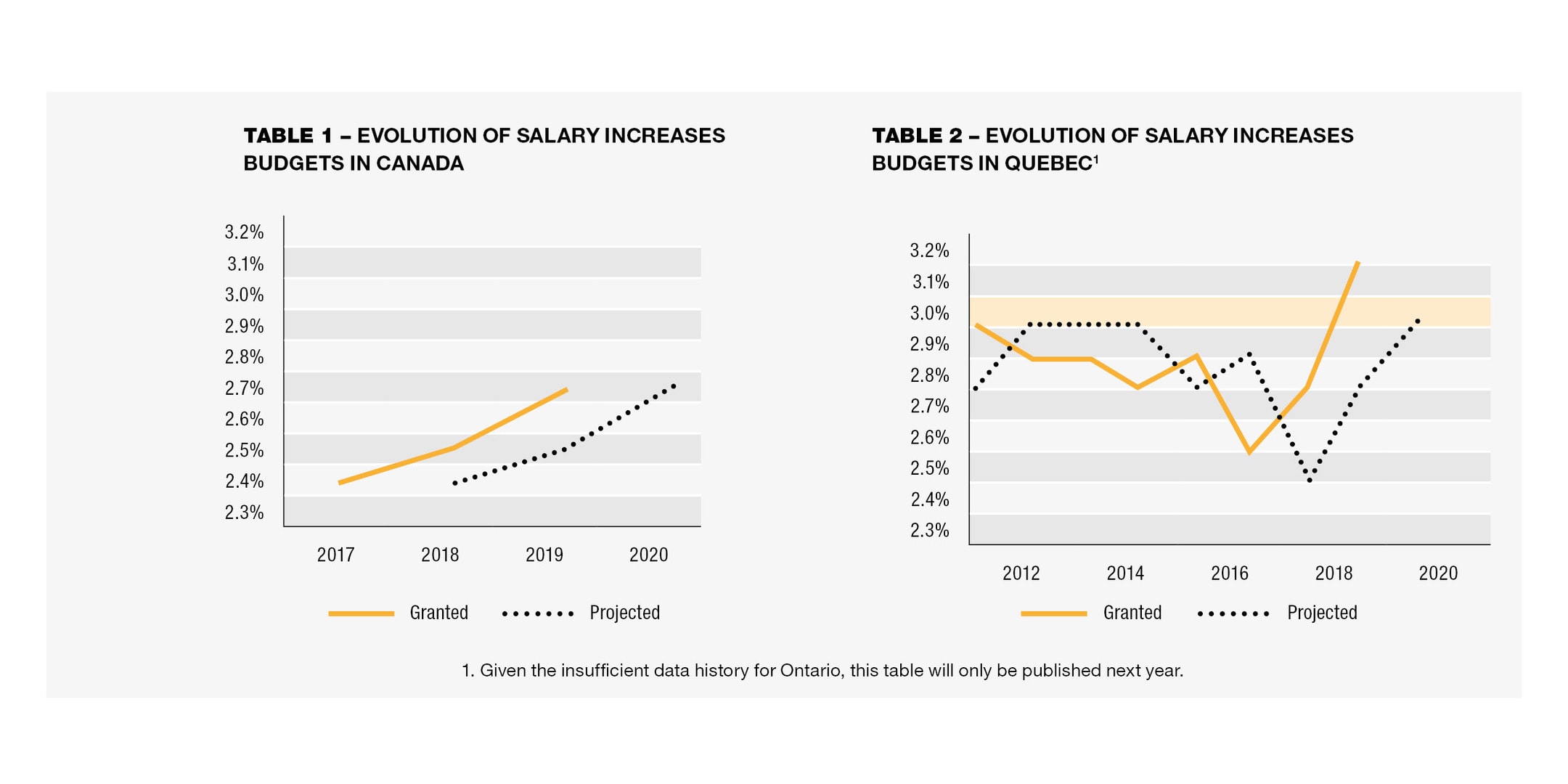 Economic persperctives
Positive financial impacts on salary increase budgets
Many factors have had a positive influence on salary increases granted by organizations in recent years, including:
Robust economic activity in Central Canada
Expected sales growth for the next 12 months compared to the same period last year
Strong investment and hiring intentions of businesses in most Canadian regions

For 2020, forecasts indicate that companies may face inflation in the bottom half of the Bank of Canada's inflation-control range, between 1% and 3%.
Capacity issues and economic slowdown
Despite many positive indicators, some factors may lead to an economic slowdown in the near future:
Inflationary pressure on workforce costs due to labour shortages
Relatively high consumer and corporate debt in Canada
Government deficits to support the economy
Aggressive central bank monetary policies and low interest rates
Total Salary Increases
We have observed a significant gap of 0.4% for Quebec and 0.2% for Ontario between salary forecasts for 2019 and the increases that were actually granted. The factors outlined above partly explain this gap.  We predict that a similar phenomenon could be observed next year.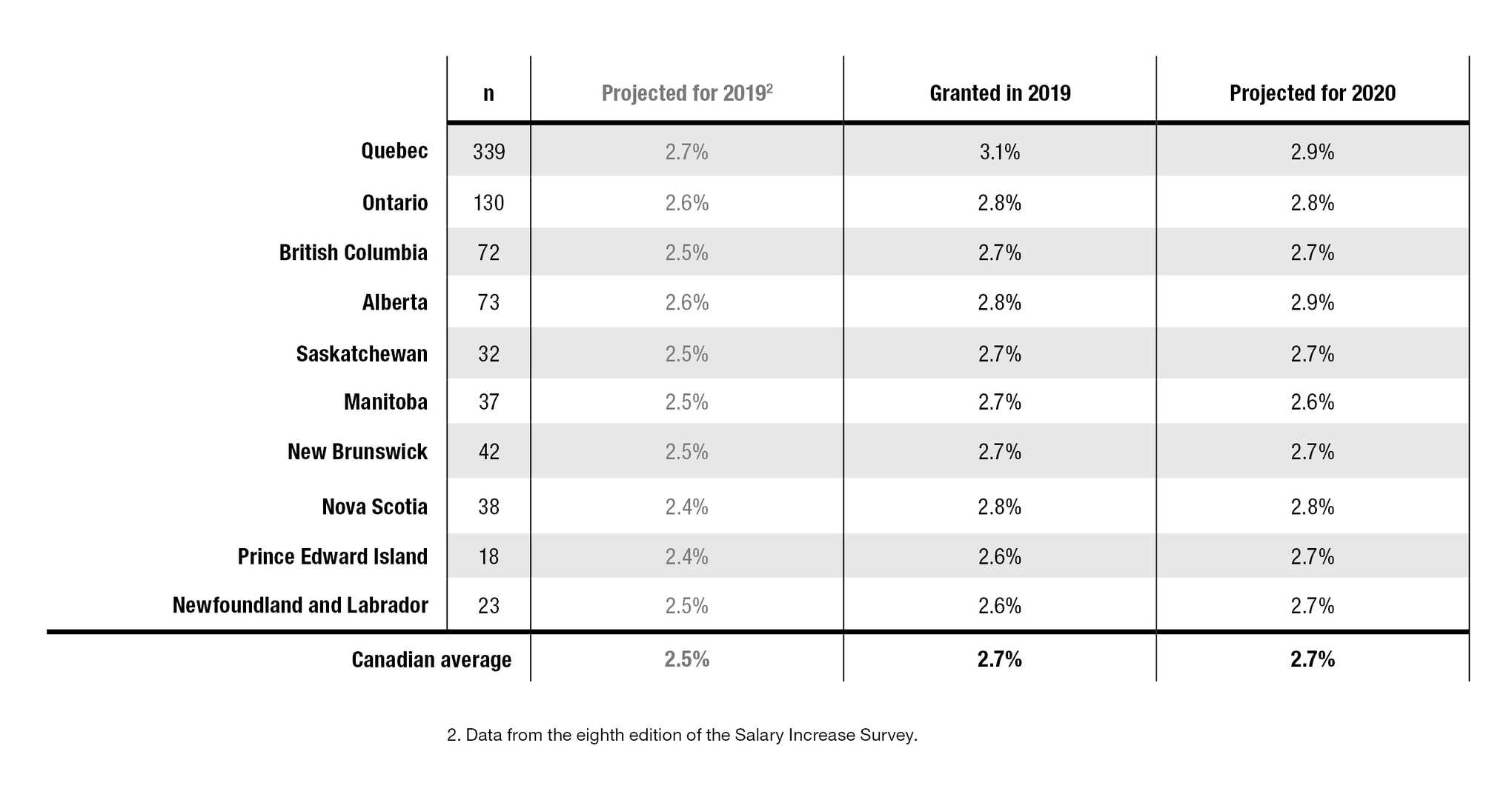 Salary Structure Increases
The average increase to salary structures in Canada in 2019 was 2.1%, mirroring next year's forecast levels. Quebec and Ontario top the list of Canadian provinces with increases to salary structures in 2019 and forecast for 2020 at 2.3%, excluding salary structure freezes.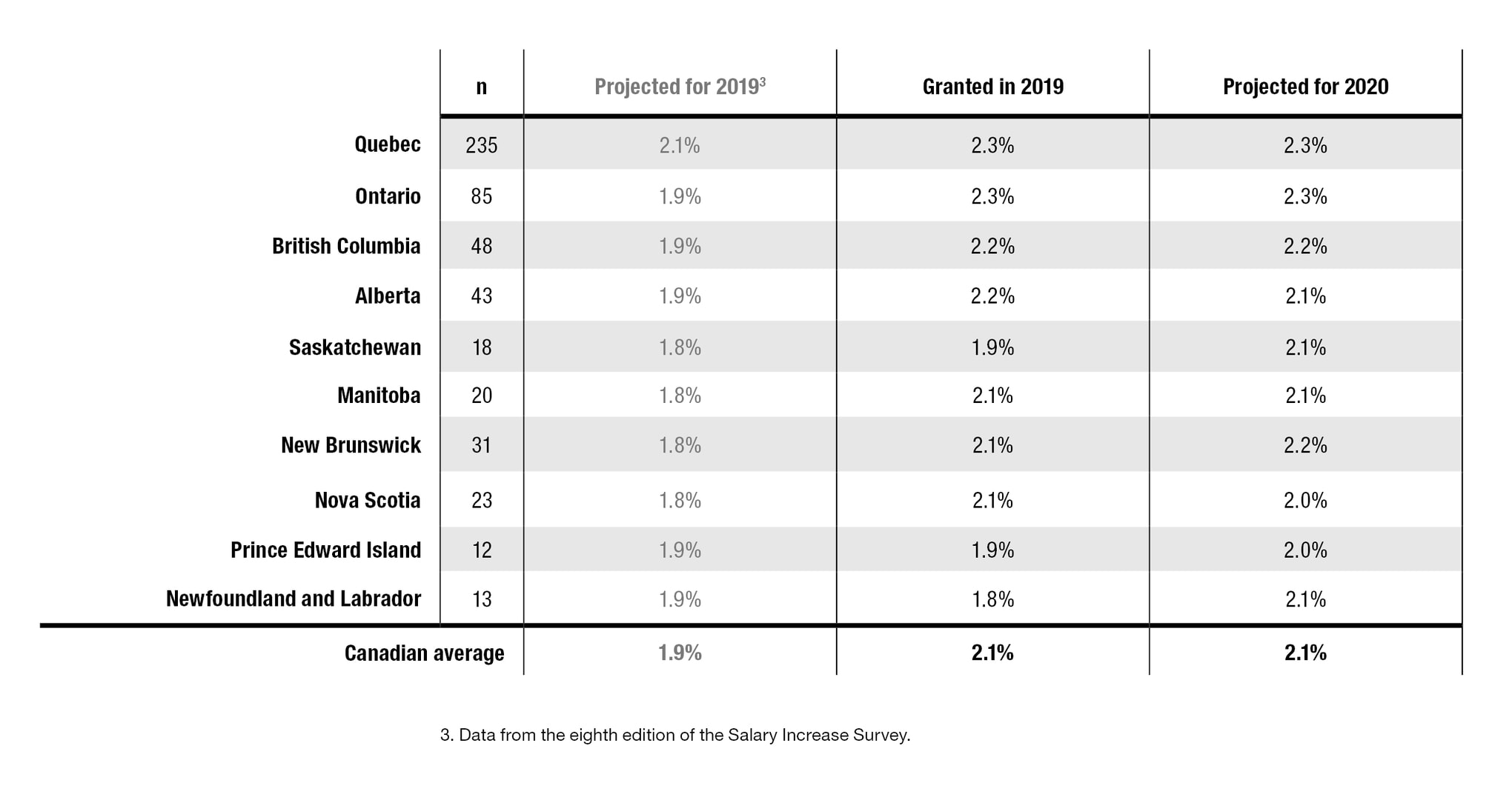 The average gap of 0.6% between salary increases and average salary structure increases has remained stable compared to the previous year. This means that the major share of salary increase budgets are used to maintain the positioning of employees within their pay scales. The remaining budget allows businesses to reward the performance and progression of their employees.
What about salary structures for unionized jobs?
For organizations with step-based salary structures (i.e. those granting automatic salary increases to employees), the average increase was 2.2% in Quebec and 2.4% in Ontario.
Normandin Beaudry thanks all the participants for their contribution to the success of this survey! For more information, please contact our specialists.
Don't miss out on the 2021 salary forecasts
Want to participate in or be kept informed of our next surveys? Email us!