July 2023
Quebec drug insurance plan: New rates starting July 1, 2023
Every year on July 1, the Régie de l'assurance maladie du Québec (RAMQ) adjusts the rates for the public prescription drug insurance plan to take into account changes in plan costs.
RATES FOR 2023-2024
The table below presents the changes that apply to all individuals covered under the public plan, with the exception of those who receive prescription drugs free of charge (no premium or contribution):
holders of a valid claim slip (generally recipients of last-resort financial assistance)
individuals ages 65 or over receiving 94% to 100% of the Guaranteed Income Supplement (GIS)
children under age 18
full-time students ages 18 to 25 who are spouseless and living with their parents
individuals ages 65 or older receiving less than 94% of the GIS who are subject to a reduced contribution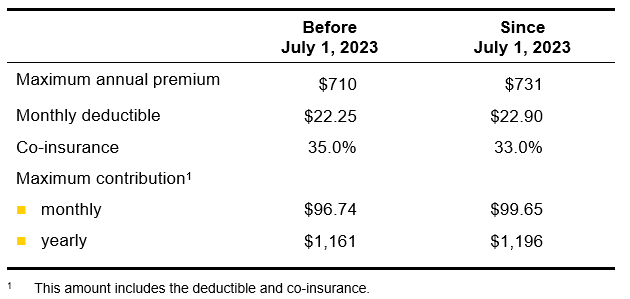 OBSERVATIONS
After all rates were maintained in 2022, most rates will increase on July 1, 2023. Increases of 3% will apply to the maximum annual premium, to the monthly deductible and to the maximum contribution. However, the co-insurance will drop by 2%, which will provide a slight reprieve to the public plan's members after they reach their monthly deductible.
It should be noted that:
The annual premium is the amount paid by an adult when income tax returns are filed in order to be covered by the public plan.
The deductible is a fixed amount that constitutes the first portion of the cost that an adult must pay when purchasing covered drugs.
The co-insurance is the portion of prescription drug costs in excess of the deductible that an adult must pay.
The maximum contribution is the maximum amount that an adult is required to pay per month and per year to obtain drugs covered by the public plan. This contribution includes the deductible and the co-insurance.
IMPACT ON PRIVATE GROUP INSURANCE PLANS
Because private group insurance plans do not typically apply the same rates or set of cost control measures as the public plan, we do not anticipate a significant financial impact on private plans.
For more information about this topic, contact your Normandin Beaudry consultant or email us.