September 2017
Normandin Beaudry's Salary Increase Survey 2017–2018
The seventh edition of the Salary Increase Survey was conducted during the summer of 2017. Some 294 organizations representing more than 602,000 employees took part in the survey, allowing us to build a reliable, information-rich database. The data collected was analyzed by Normandin Beaudry's compensation experts. The Survey presents labour market trends as well as salary forecasts for 2018 based on the specific conditions of the Quebec and Canadian labour market.
With its detailed segment results, the Salary Increase Survey is a key tool for decision-makers, who can then hone in on their reference market and make informed decisions to properly set their salary increase budgets for the coming year.
Highlights
Forecasts for average salary increases in Quebec have declined compared to last year's forecasts. With a projected average increase of 2.4% for 2018, Quebec's forecasts dropped 0.4% compared to the sixth edition of our survey. However, forecasts are in line with the Canadian average, which also stand at 2.4%.
As for increases granted in 2017, Quebec was among the most generous provinces with salary increases of 2.5%, 0.1% higher than the Canadian average. Alberta, Newfoundland and Labrador and Prince Edward Island fell at the bottom of the ranking with increases of 2.2% on average.
In spite of increases above the Canadian average, Quebec granted lower-than-projected increases, estimated at 2.8% at the same period last year, and also lower than the increases granted in 2016, which amounted to 2.8%.

As for salary structures, Quebec remains on top with increases granted in 2017 of 2.1% and 2.0% projected for next year. Structure increases granted in 2017 were higher than last year's forecast of 1.8% and also higher than the Canadian average of 1.7%.
The small gap between salary increases and salary structure increases lead us to believe that organizations are dedicating the largest part of their budgets to align their salary structures to their reference market rather than distribute it based on individual performance. Consequently, organizations only retain approximately 0.4% of their budgets to recognize the performance of their employees.
Playing it safe for 2018
The decline in granted and projected salary increases leads us to believe that Quebec organizations will be more cautious. The graphic below allows us to observe that average granted and projected increases are at their lowest in five years.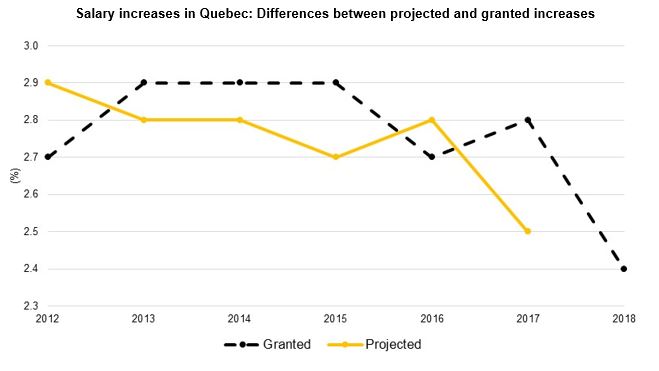 Despite a combination of several economic and political factors that may explain this cautiousness, forecasts are not only unfavourable to organizations. Economic activity in Canada continues to grow, partly thanks to increased domestic demand, thereby providing a favourable outlook for the coming months.
Click here to access the full Salary Increase Survey report.
Please feel free to contact us for additional information.