January 2021
Update of the 2021 salary forecasts
Highlights
In summer 2020, Normandin Beaudry's salary increase survey revealed the highest level of uncertainty by our survey in the last ten years.
In November 2020, Normandin Beaudry conducted a supplemental survey to specify salary intentions for 2021. This edition takes a more in-depth look at bonuses paid based on data from 300 organizations across Canada.
ECONOMIC PERSPECTIVES
The most recent statistics published by Canada's big banks reveal that the economy has rebounded significantly despite certain sectors remaining in a critical situation. Inflation has increased since July but is still below the Bank of Canada's target range of 1% to 3%. Furthermore, statistics show unemployment decreasing significantly from 13.7% to 8.5% between May and November.
Despite these few positive economic indicators, it will take patience before growth returns to pre-pandemic levels.

UNCERTAINTY AND SALARY FREEZES
In summer 2020, 40% of organizations were unable to comment on their salary intentions. Despite persistent uncertainty, several organizations finally positioned themselves, likely to finalize their budget before the start of 2021. The percentage of undecided organizations decreased to less than 20%.
Approximately 7% of organizations plan to freeze salaries in 2021, which is slightly more than the expected percentage of organizations last summer (5%). In Ontario, salary freezes are expected to be greater than 10%. Despite this slight increase in intentions, it is a considerable decrease compared to the actual freezes implemented in 2020, which amounted to more than 20%.
TOTAL SALARY INCREASES
In light of this new data, salary increase forecasts in Canada reached 2.6% (excluding freezes), which is very close to the percentage forecast last summer (2.7%). This variation of -0.1% has also been observed in salary increase budgets (including freezes), which have decreased from 2.4% to 2.3%.
On the other hand, forecast budgets in Quebec and Ontario are aligned with the national average of 2.6% but slightly lower than what was observed in July, i.e., -0.2% for Quebec and -0.1% for Ontario. These slight decreases are due, in part, to the fact that approximately 35% of organizations expect to allocate a budget less than what was initially forecast, while 15% revised their forecasts upwards.
Impact of COVID-19 on revenue and salary increases
Organizations are remaining cautious. The repercussions of the crisis on organizations' revenue remain one of the most significant factors on salary increases.

There is a major gap between the increases excluding and including freezes for organizations that are negatively impacted by the crisis. This is due to a higher percentage of freezes expected in 2021 (12%). In turn, less than 1% of positively impacted organizations expect a freeze for 2021.
Organization size
Between July and November 2020, salary freezes among organizations with fewer than 100 employees more than doubled:
from 4% to 16% for organizations with 50 to 100 employees; and
from 12% to 30% for organizations with fewer than 50 employees.
For organizations with 50 to 100 employees that plan to grant salary increases, the budgets are aligned with the national average (2.6%), or slightly higher for organizations with fewer than 50 employees (2.8%).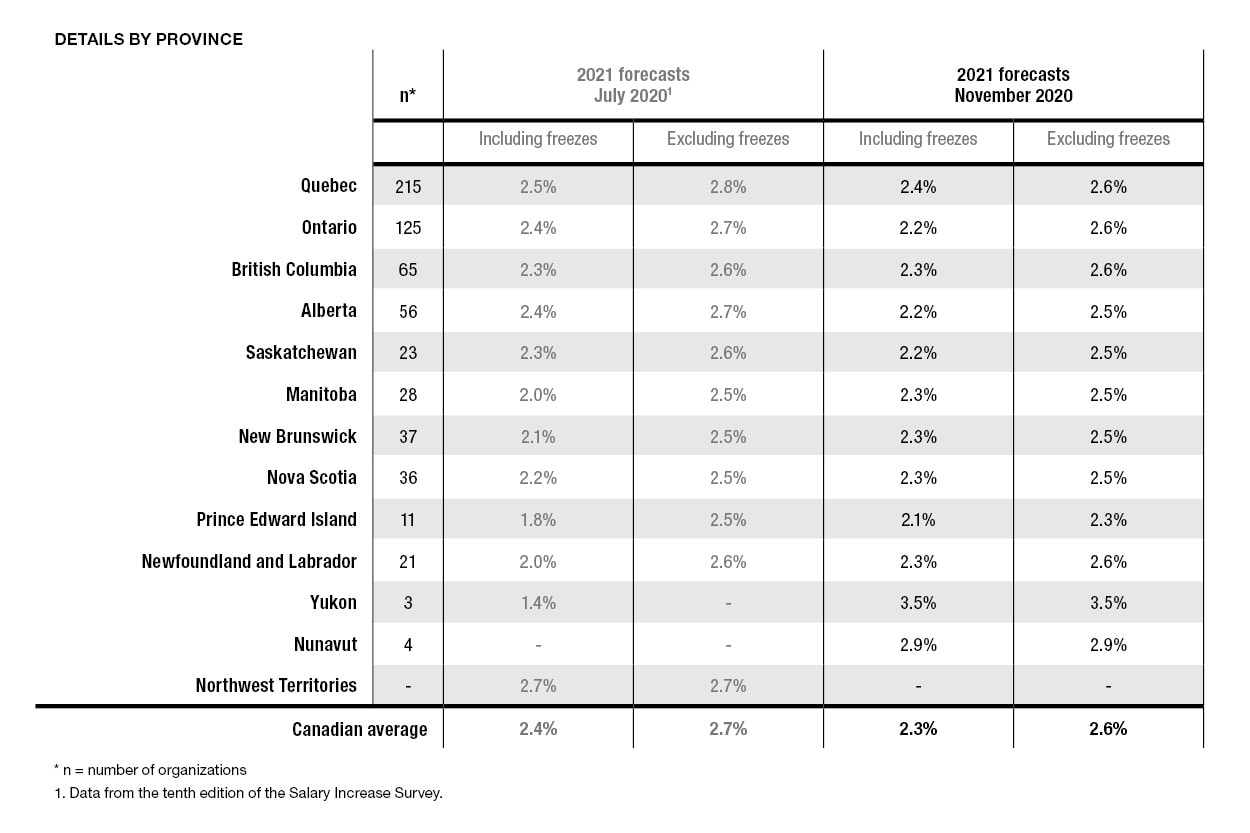 SALARY STRUCTURE INCREASES
Salary increase structure forecasts across Canada are slightly more pessimistic, falling from 1.5% to 1.3% with salary freezes included and from 2% to 1.8% with salary freezes excluded. These results are due to:
a third of organizations decreasing the salary structure's forecast increase percentage; and
salary structure freezes in the order of 15%.
VARIABLE PAY
Just like salary increase budgets, variable compensation programs have not been spared by the current crisis. More than 25% of organizations expect not to pay any bonuses in 2021, mainly because the 2020 financial results did not meet the set objectives.
For those that plan to give bonuses, close to half will make payments that are less than 20% of the target bonus. Such low levels have rarely been seen for such a high number of organizations. It should be noted that 25% of organizations that pay bonuses will pay equivalent amounts to more than 80% of the expected target.
This crisis will make 20% of organizations review their current variable compensation programs. Some organizations expect to completely overhaul their programs while others will simply adjust certain performance indicators.