September 2020
The positive side of increasing salaries in uncertain times

This summer, 446 organizations across Canada took part in the tenth edition of our Salary Increase Survey. The data collected was subject to the rigorous analysis of our compensation specialists. This analysis will help you with the identification of patterns and trends to support you with your decision-making process.
COMING SOON: The results of the topical questions about the effects of the pandemic will soon be published in a special bulletin. It contains information about layoffs, salary cuts and changes to total rewards offerings. Stay tuned!
NEW THIS YEAR: Knowing that the multiple effects of COVID-19 will undoubtedly impact salary increases, the data was segmented based on various realities.
Customize your analyses based on seven segments:
Province
Region
Revenue
Industry
Organization type
Number of employees
Impact of the crisis
Highlights
The economic downturn at the end of the first quarter had a ripple effect on salary increase forecasts. The percentage of organizations expecting to freeze salaries in 2020 is more than 20%, compared with a modest 3% last year.
In April 2020, we conducted a predictive analysis combining the changes in certain economic indicators (from 2002 to 2019) with the results of our annual salary increase surveys. We presented a pessimistic scenario that predicted salary increases ranging from 1.7% to 1.9%. Our prediction proved accurate with an average national salary increase of 1.9%, including freezes.
However, labour shortages are still being felt and the average salary increase of organizations that granted raises in 2020 is very close to last year's forecast with a national average of 2.8%.
2020: A difficult year for several industries
Several industries have been significantly affected by the crisis, resulting in some organizations reducing, or even suspending, this year's salary increases. As such, the average increase is less than 1.5% when salary freezes are included, namely in the following industries:
wholesale, retail and distribution;
foundations, community assistance and health care; and
information, culture and entertainment.
The current crisis: A growth opportunity
Although the pandemic is linked to decreased revenues for several organizations, some have been able to seize this opportunity to grow rapidly. Furthermore, organizations in the following industries did not freeze salaries in 2020 and, as a result, their salary increases average 3.9% and 2.9% respectively:
educational services; and
pharmaceuticals and biotechnology.
Despite the uncertainty, forecasts remain optimistic
While only 5% of organizations expect to freeze their 2021 salary increases, more than 40% are still undecided. For organizations not considering salary freezes in 2021, next year's forecasts remain optimistic, with a difference of only -0.1% from what was forecast the previous year (2.7% versus 2.8%).
The evolution of salary increases
For a second consecutive year, the actual salary increase in Quebec, excluding freezes, is greater than or equal to 3%. In contrast, the average for Ontario decreased to 2.7%.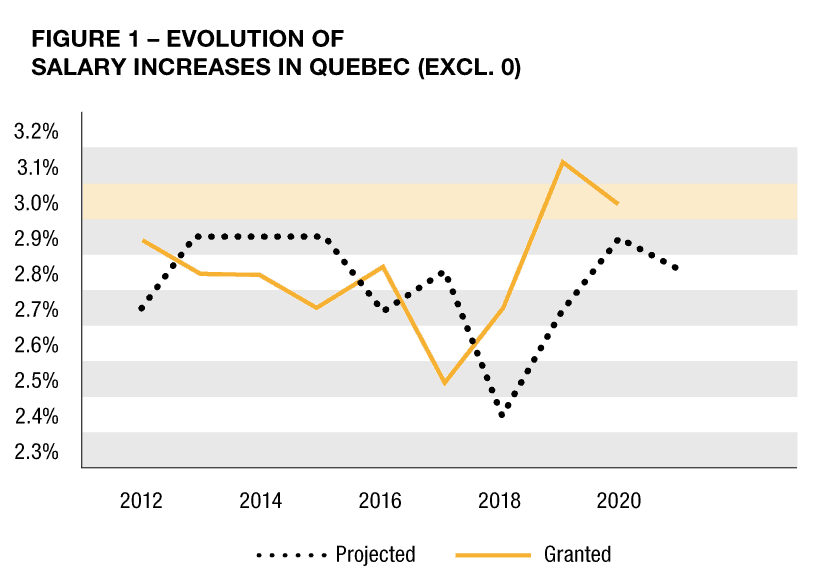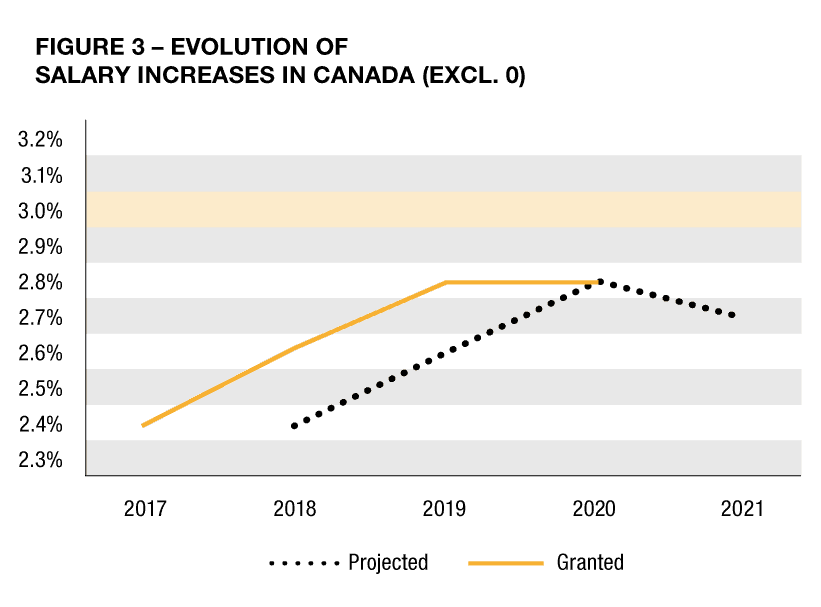 Economic forecasts
Economic downturn and uncertainty
This year, several factors have had a downward impact on the salary increases granted by organizations and will also surely cast a dark cloud of uncertainty on the coming year. Such factors include:
the possibility of continuing weak domestic and foreign demand;
an anticipated, notable decline in investments for several companies;
surplus human resources, likely resulting in a moderate hiring climate;
high unemployment, which climbed to 13.7% in May; and
the negative CPI of -0.4% during the crisis, which is below the Bank of Canada's target range of 1% to 3%.

Given the substantial number of organizations that froze salaries, the tables below show the averages with and without the freezes.
When the freezes are excluded, the average increase reflects only those organizations that increased salaries and the those that expect to increase them next year. When the freezes are included, the results are reflective of all organizations providing a more accurate view of the markets.
Overall salary increase
Organizations that granted increases (excluding freezes) matched last year's forecasts with an average increase of 2.8%.
Quebec remains the most generous province this year, with increases averaging 3% for 2020.
Averages by province are all within a 0.2% difference compared with last year's forecasts.
Several organizations had already begun or completed their salary revision process at the end of the first quarter, which had an upward impact on increases.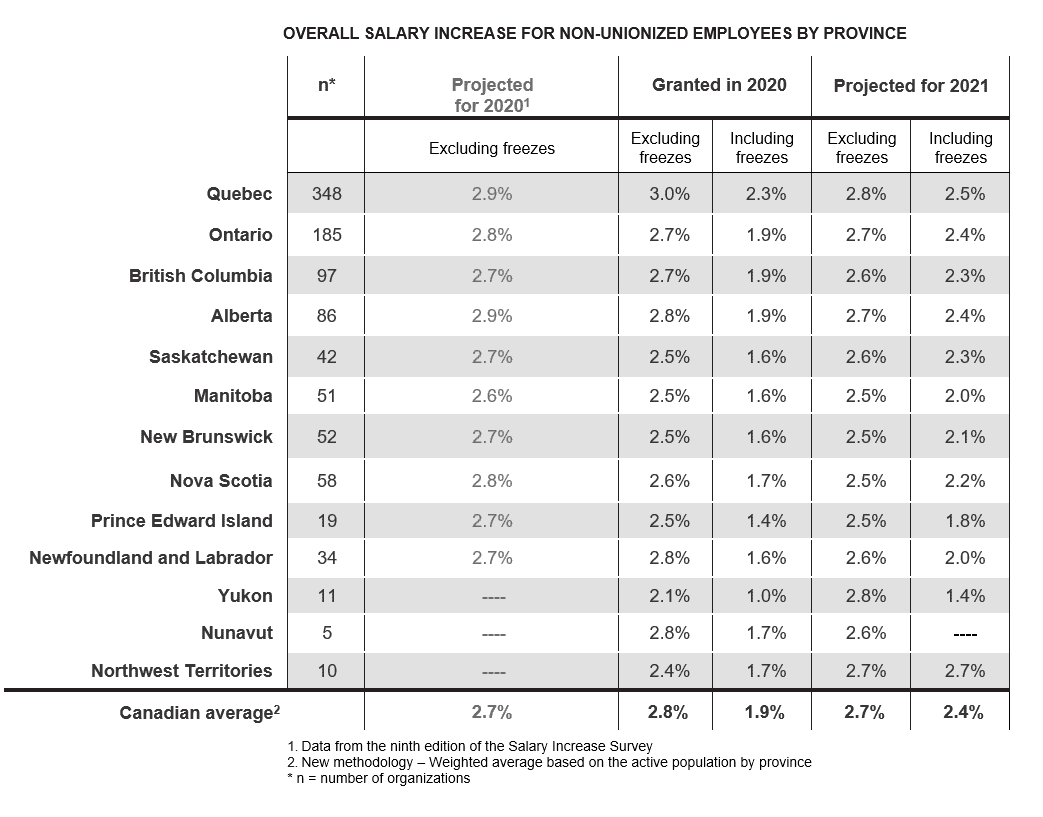 Salary structure increase
The Canadian average of salary structure increases in 2020 is 2.1%, excluding organizations that did not adjust their salary structure. The average falls to 1.4% with them included.
Salary structure increases are less common in unionized jobs, with only 7% of increases frozen compared to 20% for non-unionized jobs. This is due, among other things, to the collective agreements that guarantee increases over a period of two to five years.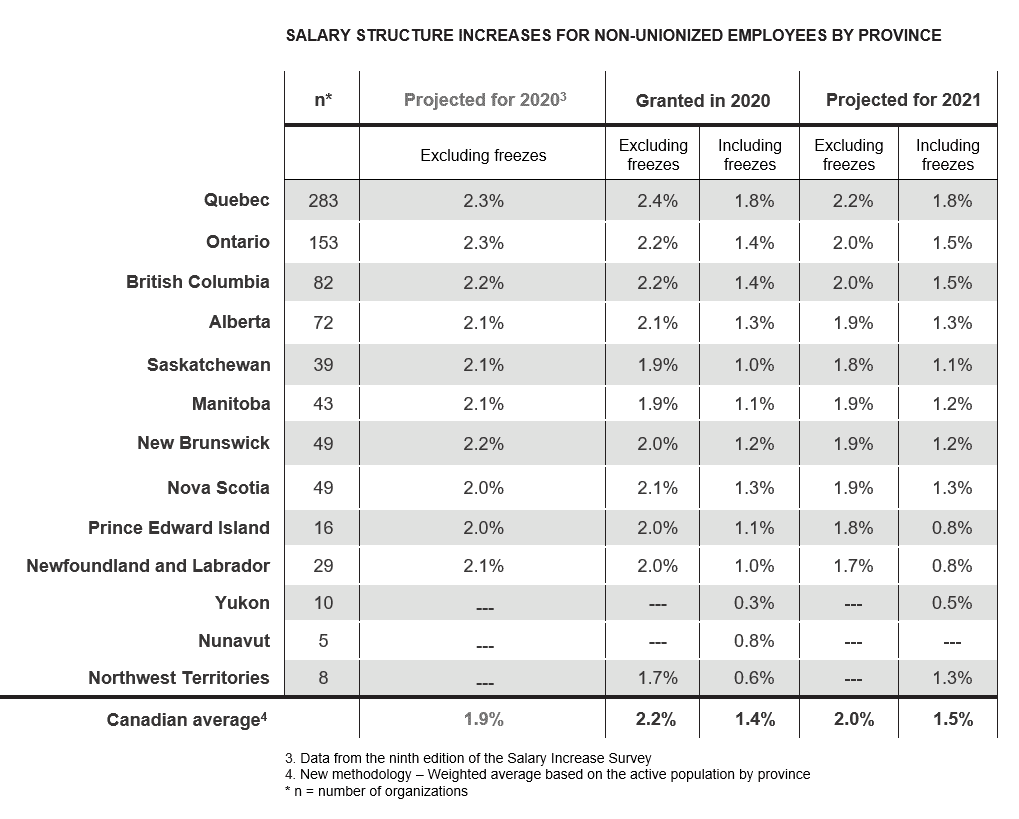 Some organizations decided to revise their salary structure upwards to maintain a competitive compensation policy in comparison to their benchmark market, without—however—increasing their employees' salaries. Although this strategy has a downward impact on individual positioning, these organizations have chosen to keep their salary framework aligned with the market, knowing that salaries continue to increase within the market.