July 2022
2023 Salary Increases: Record high budgets for a second straight year
In just four weeks, close to 430 organizations have participated in our 2023 Salary Increase Survey. Preliminary results show that the country's average 2022 salary increases reached 3.7%, up from the initial projection of 3.4% published in February 2022. Current projections for 2023 are calling for average salary increases of 3.9% in Canada, excluding salary freezes.
These preliminary results suggest that organizations are planning to grant higher salary increases for a second year in a row in response to the ongoing economic challenges (skyrocketing inflation rates and a looming recession) and the difficult labour market (low unemployment and high demand for talent).
Furthermore, about one third of responding organizations are planning for an average additional budget of 1.4% for 2023. This one-time budget will help Canadian organizations navigate the ongoing economic uncertainty and labour shortage. More specifically, this budget is aimed at:
Making market adjustments;
Retaining strategic/critical roles;
Retaining employees with perceived retention risk;
Accelerating the progression of employees in the lower end of their pay range;
Differentiating rewards for high performers;
Granting off-cycle salary increases.
In comparison, in 2022, nearly half of the responding organizations granted an additional budget, averaging 2.2%.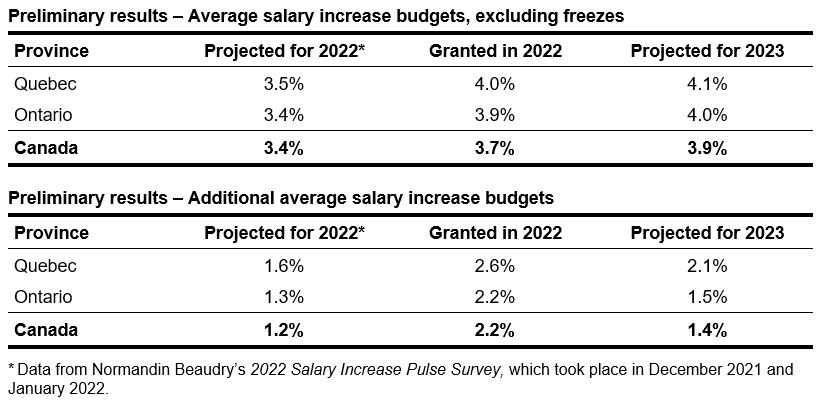 The total average increases granted in 2022 by all responding organizations in Canada was 4.6%1, with a projection of 4.3%1 for 2023. When looking only at organizations that granted or projected an additional budget, the average is much higher, with 5.6% granted in 2022 and 5.0% projected for 2023.
Share your projections!
The survey is still open. Participate by July 22 to receive detailed results in September, including the exclusive section on:
compensation in times of high inflation and labour shortages;
WFH and other work schedule policies; and
career advancement.
1 Includes increase budgets and additional budgets. The data shown is lower than the sum of the average of the increase budgets and additional budgets because not all of the organizations have an additional budget.