February 2022
Salary increases and labour shortage: Salary increase budgets on the rise in Canada
At the end of the year 2021, 285 organizations across Canada took part in the Salary Increase Flash Survey launched by Normandin Beaudry.
This survey aimed to better estimate the salary increase budgets planned by organizations to deal with the backdrop of high inflation, the "Great Resignation" and the labour shortage.
Highlights
The results of the flash survey confirm that organizations anticipate securing higher salary increase budgets than previously expected. Indeed, half of the participating organizations reported making revisions to their 2022 salary increase budgets, raising the average forecasted budget in Canada from 2.9% during the summer to 3.4% this fall, excluding freezes. In addition, companies who initially reported a projected salary freeze for 2022 decreased from 3% in the summer to 0.4% this fall.
Beyond traditional salary increase budgets, 40% of responding organizations are planning to carve out additional increase budgets of 1.2%, on average. Among the organizations that are planning additional budgets, the most common reasons are to:
Support ad-hoc market adjustments (73%)
Retain strategic/critical roles and/or roles with perceived retention risk (54%)
Differentiate rewards for high performers (45%)
These forecasted results are signaling that organizations are planning on leveraging their annual salary increase budgets as a key component of their talent strategy to attract and retain their people in today's tight labour market.
Overall salary increase budget by province
As mentioned earlier, the average salary increase budget forecast for 2022 in Canada is 3.4%, excluding freezes, or 0.5 percentage points above the average budget initially forecasted during the summer 2021.
A marked increase in revised budgets is observed across all provinces, with increases ranging from 0.2 to 0.7% relative to what was reporting in the summer of 2021
Quebec, Ontario and British Columbia reported highest revised total increase budgets across Canada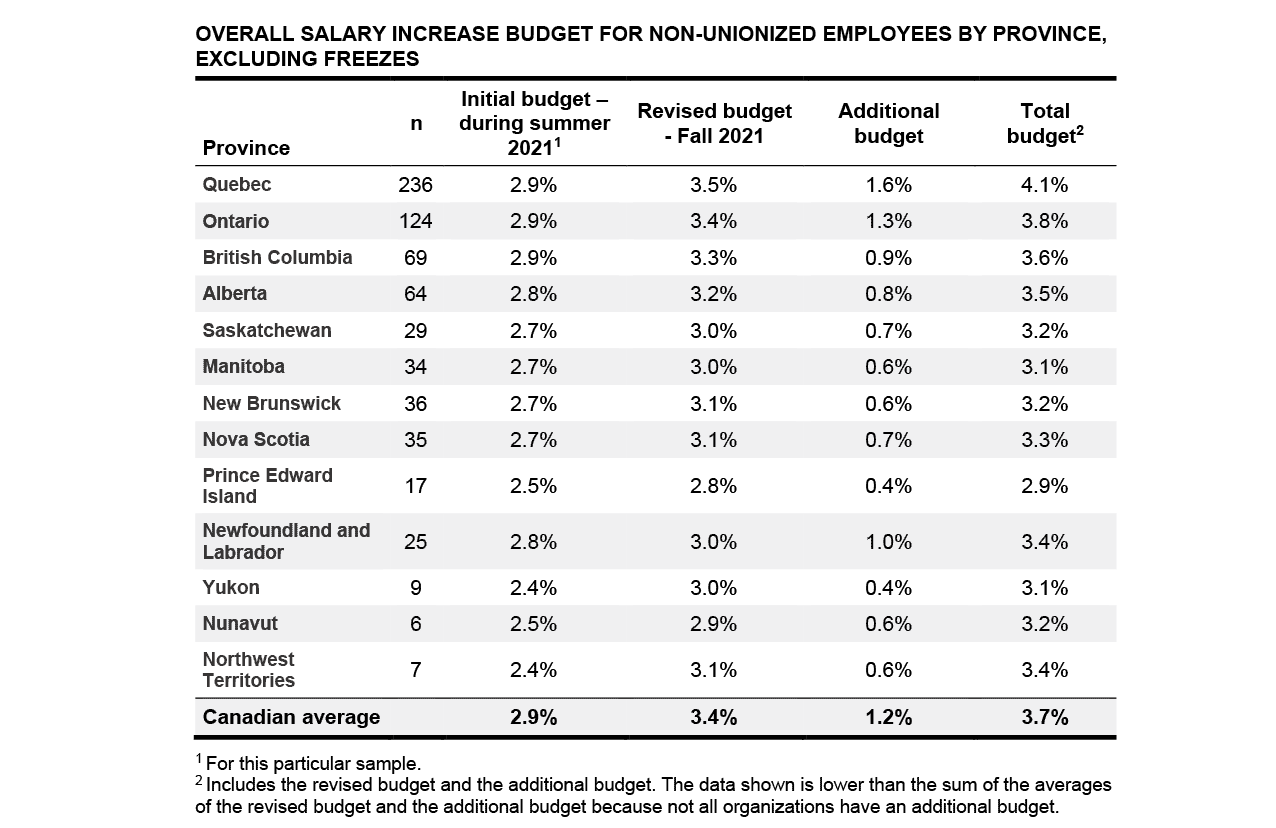 While salary increase budgets are reaching record levels in this particular context, it should be noted that salary inflation is generally higher than the simple value of these budgets. Indeed, it's important to mention that salary increase budgets do not always reflect the additional monetary spend as it relates to internal promotions and the acquisition of new external talent. This is particularly important in the context of the "Great Resignation", as the market is experiencing a more pronounced ebb and flow of talent across Canadian employers.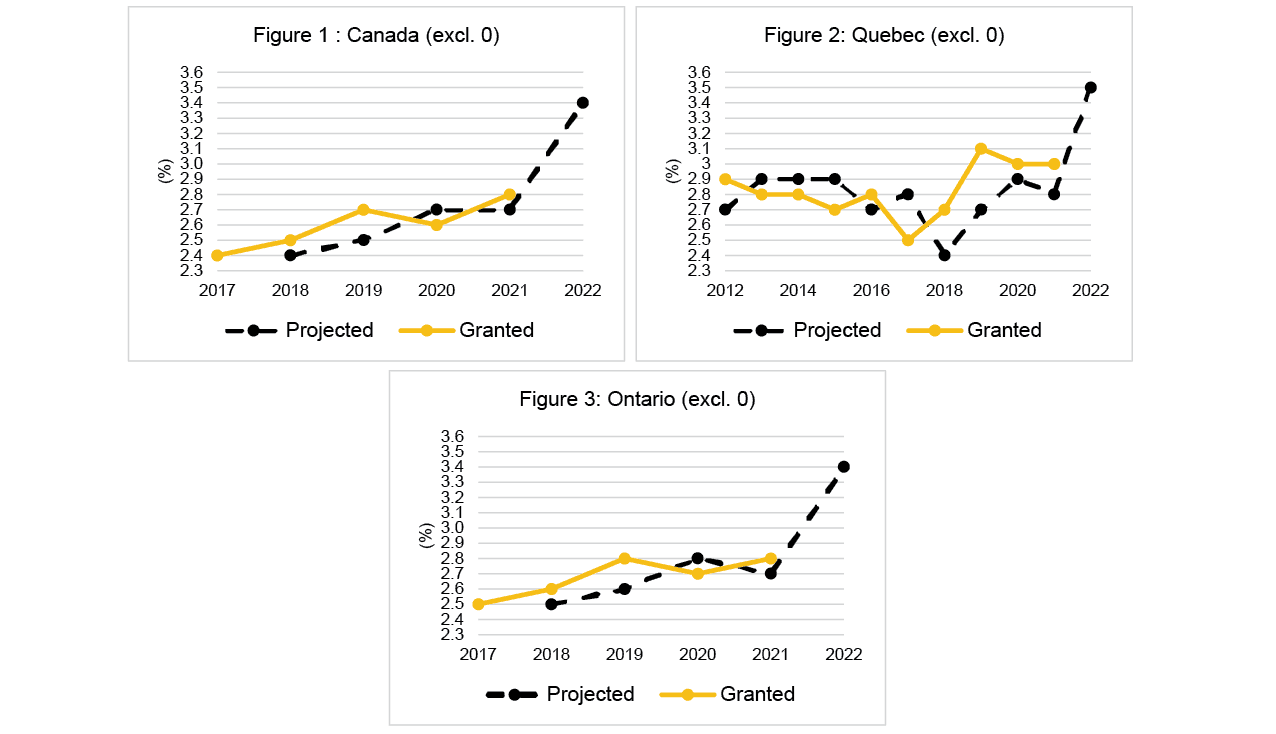 Salary structure increase
The average salary structure increases forecasted for 2022 in Canada is 2.7%, excluding organizations that decided to freeze their salary structure.
The salary structure increase budgets are therefore far more generous than initially planned. Furthermore, only 6% of organizations plan to freeze their salary structure while 13% of them had frozen it in 2021.