September 2022
Record-high salary increase budgets for 2023
More than 750 organizations across Canada, employing nearly 1.8 million workers, took part in the 12th edition of Normandin Beaudry's Salary Increase Survey in June 2022. The detailed analysis conducted by our compensation specialists provides patterns and trends that can be used to make strategic compensation decisions.
COMING SOON: Results of our special questions will be shared to all participants in a separate bulletin. This year's special themes were:
compensation in times of high inflation and labour shortages;
WFH and other work schedule policies;
career advancement.
In the meantime, explore our interactive platform and personalize the results according to your organization's profile!
Highlights
Being proactive in managing salaries is an essential strategy to adopt in response to the ongoing economic challenges (skyrocketing inflation rates and a looming recession) and difficult labour market conditions (low unemployment rate and high demand for talent). In light of the results of this survey, the demographics of your workforce and your compensation infrastructure, you can start planning your budget.
Not surprisingly, many organizations across Canada are feeling the pressure to be more generous than in previous years. For a second year in a row, salary increase forecasts are clocking in at historic highs, with an average of 3.8% for 2023 excluding salary freezes. This projection may seem conservative. However, it is worth noting that more than one out of ten organizations are planning average salary increase budgets above 5% and in some cases as high as 20%.
Moreover, only 1% of the organizations have frozen salaries in 2022 or intend to do so in 2023, a particularly low number, which can be attributed to the current context, but contrasts with the rates observed in recent years. Uncertainty related to the pandemic had pushed the number of organizations that have implemented a salary freeze in 2021 to 8%, when it was typically between 3% and 5% before the pandemic.
The results show that organizations are continuously adapting to market pressures with average salary increases granted in 2022 in Canada reaching 3.8%, exceeding the initial projections of 3.4% and 2.8% published in February 2022 and July 2021, respectively.
A generalized trend
Organizations of all ownership types are projecting more generous increases for 2023 than ever before, further proof that none is immune to tough economic times.
Average salary increase budgets in Canada (excluding freezes):
Private sector (not listed on the stock market): 4.0%
Private sector (listed on the stock market): 3.7%
Not-for-profit organizations: 3.5%
Public and parapublic sectors: 3.1%
Some sectors deeply affected by talent shortages
In the winter of 2022, the survey results showed that the IT sector was the most affected by the labour shortage, with more than half of polled organizations struggling to fill positions in that sector.
Competition to attract and retain talent in this area is heating up between organizations, mainly due to:
The digital shift adopted by many companies even before the pandemic, which has skyrocketed over the past two years.
The growing popularity of remote work, intensifying the IT needs of organizations.
These two factors have widened the labour gap in that sector, further stoking the war for talent. The average salary increases budgeted for 2023 of organizations in IT-related sectors reflect this intensifying competitiveness.
Average salary increase budgets in IT-related sectors (excluding freezes):
Electronic gaming and visual effects: 5.8%
Software publishers: 5.6%
IT consulting services: 5.1%
E-commerce, website design, multimedia/digital: 4.6%
High technology: 4.4%
Computer design, security, IT services and AI: 4.2%
Small organizations stand out
Small businesses in terms of employee size are planning higher salary increase budgets than their larger counterparts in 2023. In Canada, organizations with fewer than 50 employees lead the pack with an average budget of 4.5%, followed by organizations with 50 to 99 employees (4.1%) and those with 100 to 199 employees (4.0%) (excluding salary freezes).
Small businesses are also the ones that granted the highest salary increases in 2022, with average increases of 4.7% for organizations with fewer than 50 employees, 3.9% for those with 50 to 99 employees, and 4.5% for those with 100 to 199 employees (excluding salary freezes).
The evolution of salary increases
Average increases granted in 2022 are considerably higher than those granted in 2021 across Canada. Despite the high projections published in February 2022, organizations across the board were more generous than expected, as illustrated below.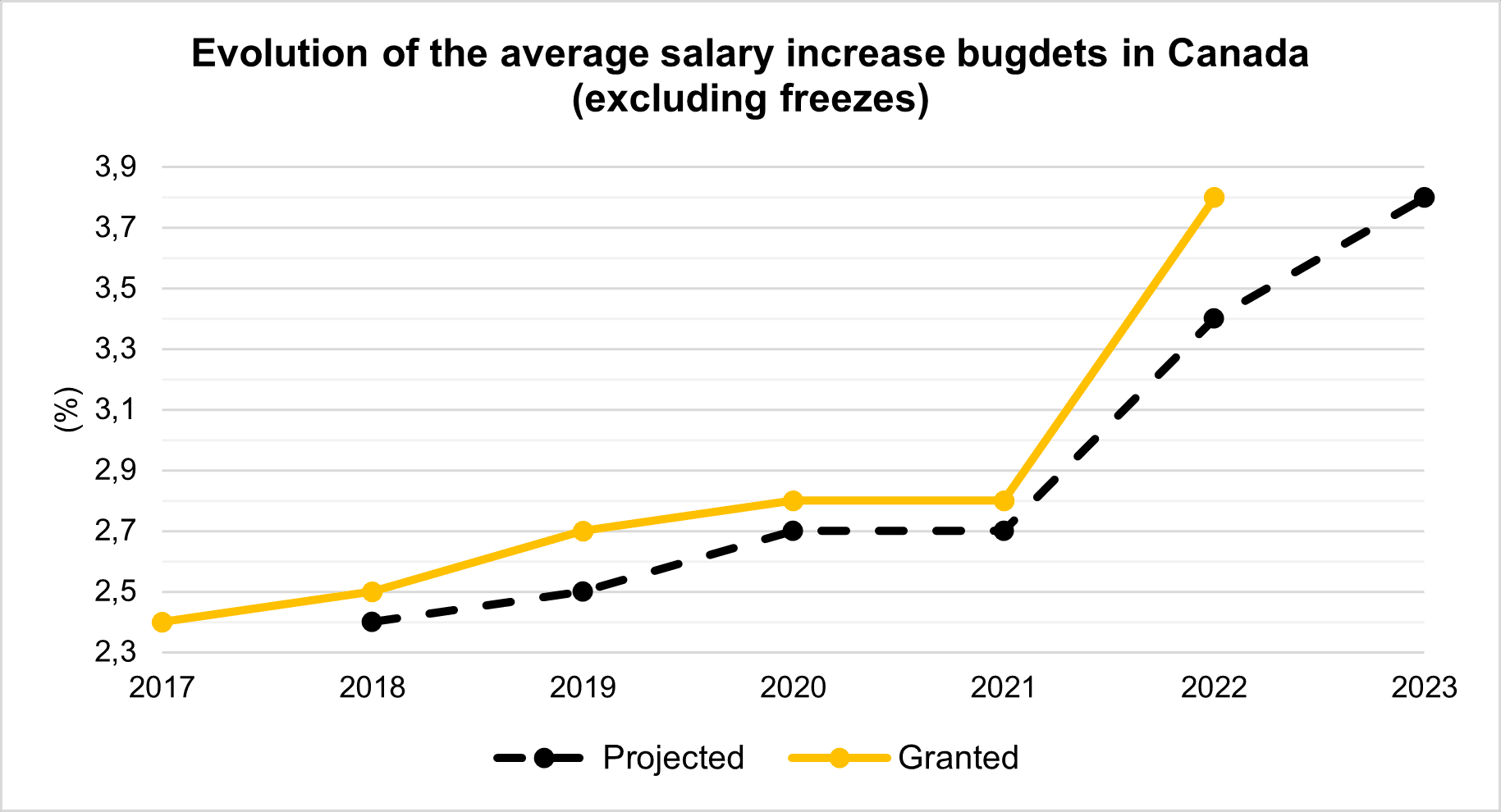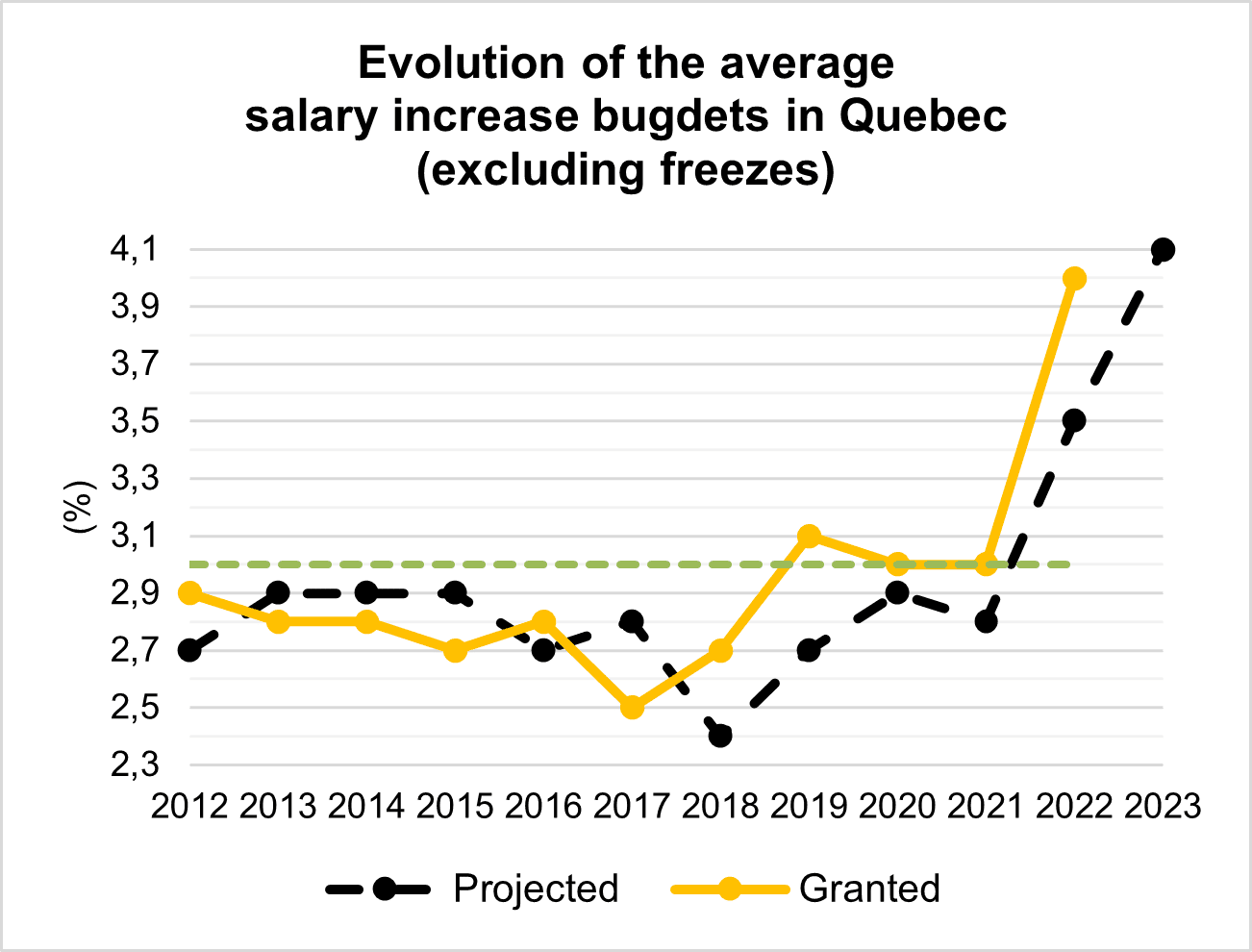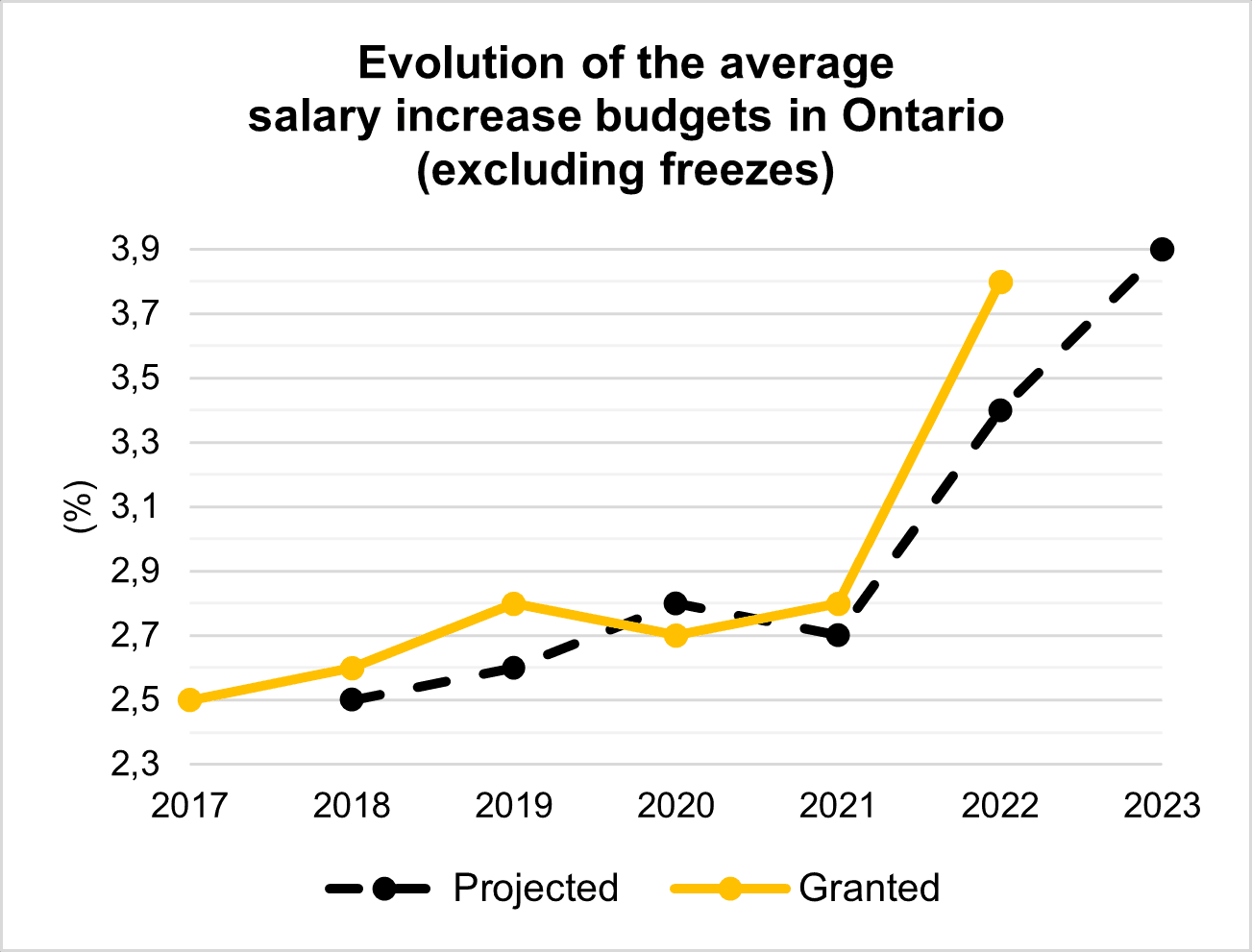 * Projected average salary increase budgets for 2022 were updated following Normandin Beaudry's 2022 Salary Increase Pulse Survey conducted in late 2021.
Economic forecasts
Significant challenges lie ahead
The current economic situation presents several challenges for organizations. The following key economic indicators bear witness to this:
The unemployment rate at a historic 40-year low: 4.9% in Canada, i.e., almost full employment, compared to 7.5% at the same date in 2021.
The Consumer Price Index (CPI) at a historic 40-year high: 7.6% in Canada, far above the Bank of Canada's target range of 1% to 3%. The sharp increase in CPI in recent months is attributable to many factors, some of which may last for a few more quarters.
A generalized labour shortage across Canada

Quebec is the most affected province.

The risk of recession or increased volatility of organizations' financial results due to:

The war in Ukraine
High inflation
Rising interest rates
The enduring pandemic
Labour shortages

While the risk of a recession is very real, organizations are still planning on granting record-high pay increases.
Salary increase budgets
Increases granted in 2022 (excluding salary freezes) greatly exceeded forecasts, with the average increase in Canada coming in at 3.8% compared to 3.4% projected last February.
Quebec remains the most generous province once again, with increases budgeted at 4.1% for 2023.
All average increases granted by other provinces in 2022 are at least 0.2% higher than forecast (excluding salary freezes), except for Nunavut where increases granted in 2022 are slightly lower than forecast. The difference between the projected and granted increases is normally quite minimal, at 0.1%.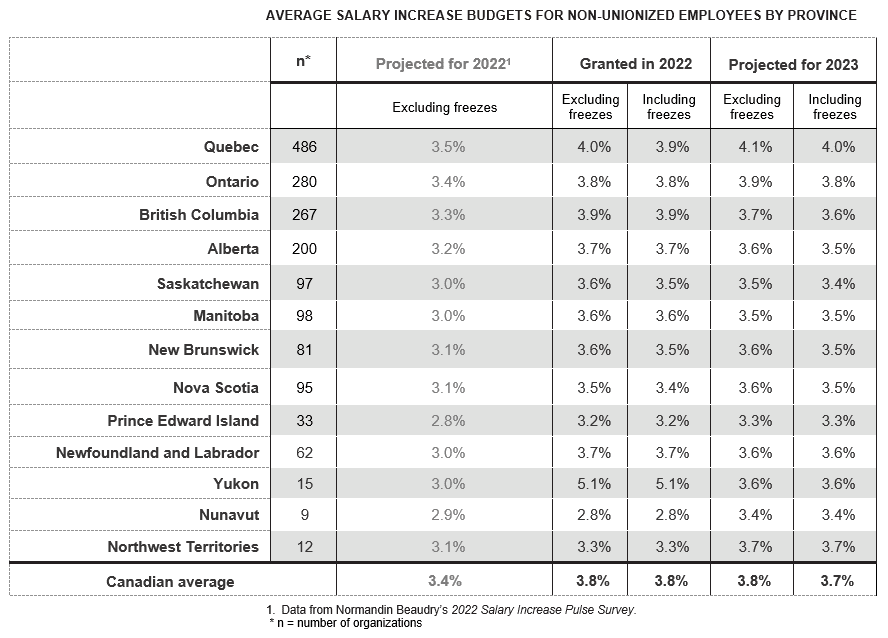 Additional salary increase budgets
Nearly half of organizations had an additional budget of 1.9% on average in 2022, which is higher than the initial forecast of 1.2%. For 2023, forecasts reveal that one third of organizations plan to grant additional budgets averaging 1.4%. This one-time budget will give organizations a boost amid ongoing uncertainties. More specifically, organizations surveyed are planning on using these additional funds to:
Make market adjustments (81%)
Retain strategic/critical roles (64%)
Retain employees with perceived retention risk (54%)
Differentiate rewards for high performers (46%)
Accelerate the progression of employees in the lower end of their pay range (43%)
Grant off-cycle salary increases (30%)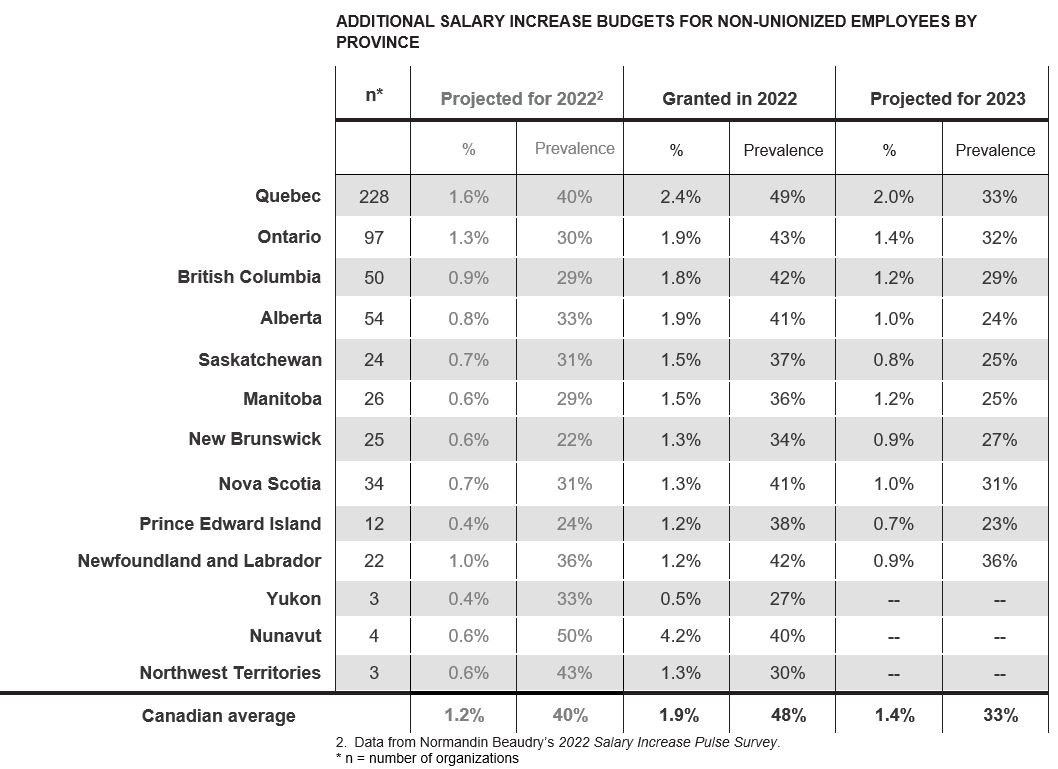 Total salary increase budgets (including additional budgets)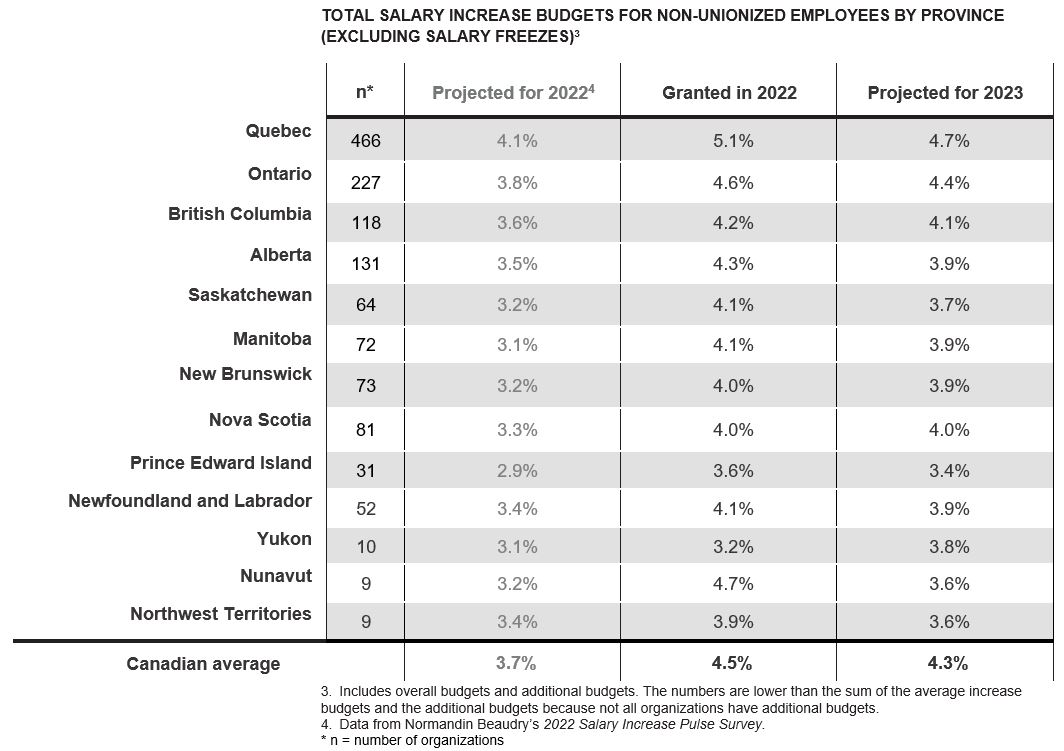 Salary structure increase for non-unionized employees
The average salary structure increases granted in 2022 in Canada clocks in at 3.0%, excluding organizations that decided to freeze their salary structure. This average drops to 2.7% when those organizations are taken into account, which is due to 6% of organizations freezing the salary structure of non-unionized employees.
This is a much higher increase than those observed historically, as illustrated by the average salary structure increase granted in Canada over the past three years (excluding freezes):
2021: 2.1%
2020: 2.2%
2019: 2.1%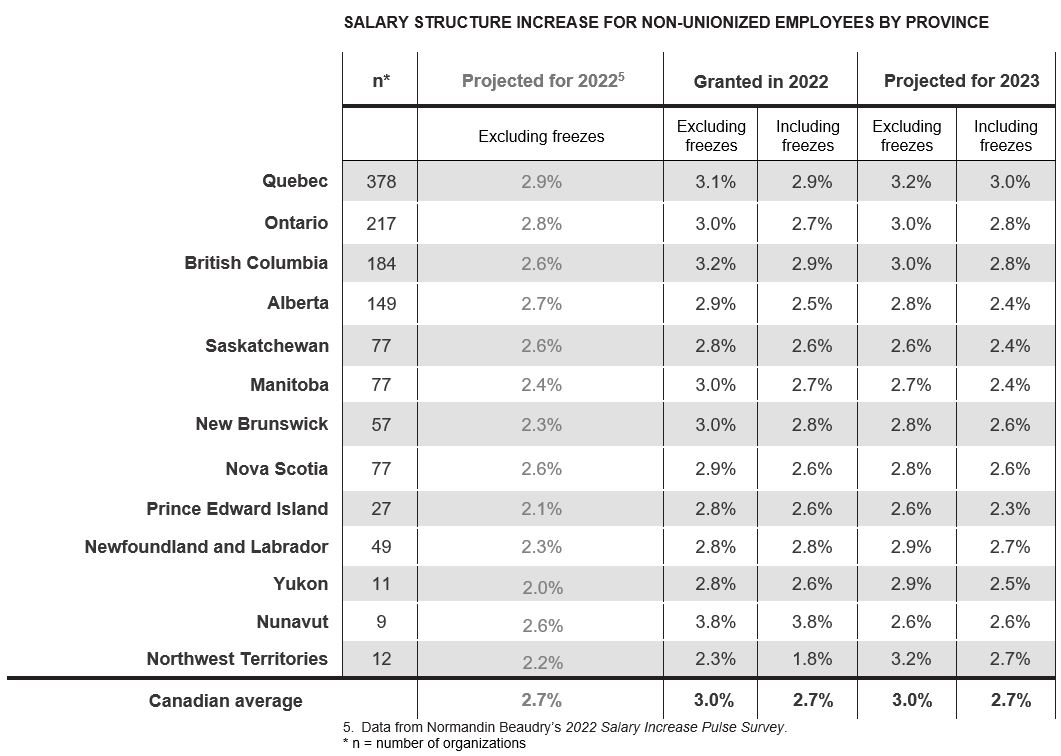 Conclusion
For a second straight year, we're observing salary increases that showcase the agility of organizations to address difficult economic and labour market conditions. However, caution is advised, especially in the face of a looming recession. There are many other measures in an organization's arsenal to tackle such issues, some that do not necessarily require an increase in fixed costs as wage increases imply.
When we surveyed employees last fall, flexibility was the top reason they cited for remaining with their current employer, with salary coming in third place. Therefore, reviewing your employee value proposition can take on many other forms and have a lasting, sustainable impact on talent retention.