September 2021
Managing salaries in the midst of a labour shortage
This summer, more than 600 organizations across Canada took part in the 11th edition of the Salary Increase Survey. The detailed analysis conducted by our compensation specialists will allow you to identify patterns and trends that will be most useful to your decision-making process.
THEY'RE FINALLY HERE: The results of the topical questions covering the effects of the pandemic on total rewards are available. Discover them!
Highlights
Proactive management of salaries is your best strategy in response to the current labour shortages and economic recovery. Based on the results of this survey, the demographic profile of your workforce and your compensation infrastructure, you can start working on calculating, targeting and, finally, convincing your management committee on the importance of taking action.
While more than 20% of companies were planning on freezing salaries last summer, only 8% of participating organizations actually froze wages in 2021 and 3% of them intend to freeze salaries in 2022.
This drop in salary freezes in 2021 is a result of the economic recovery and the desire of companies to keep offering salary increases at the same level of those offered before the beginning of the pandemic. Close to 25% of organizations that froze or lowered salary increase budgets in 2021 intend to increase their budgets in 2022.
Cautious economic recovery in 2021
Many business sectors were showing signs of caution last year regarding their salary increases, a trend that continues this year. As such, the average budgets of several industries are less than 2% when salary freezes are included, namely:
Agriculture, forestry, fishing and hunting
Foundations, community assistance and health care
Real estate and rental and leasing
In terms of revenue size, the largest organizations (those with $5 billion or more in revenue) granted the most modest increases in 2021, with 2.2% (excluding salary freezes).
Technology sectors and smaller organisations remain on top
Although the pandemic is synonymous with decreased revenues for many organizations, others seized this opportunity to accelerate their growth. This was especially the case for the technology sector, which averaged salary increases of 3.7%.
Smaller organizations, with business revenues of $1 million or less, also had the highest salary increase budgets at 3.9% (excluding salary freezes).
2022: Market uncertainty lifts; return to pre-pandemic levels
Only 3% of organizations are expected to freeze salary increase budgets in 2022, while 11% of organizations are still undecided (compared to 40% last summer). However, the forecast salary increase budgets for 2022 could have been more generous to make up for 2021. The average national salary increase rose to 2.8% (excluding freezes), a level similar to the one before the beginning of the pandemic. When we surveyed organizations in the summer of 2019, salary increase budgets for 2020 (excluding freezes) were at 2.7%.
The evolution of salary increases
For a third consecutive year, the average budget in Quebec, excluding freezes, is greater than or equal to 3%. The average for Ontario is slightly higher than last year's expectations, at 2.8%.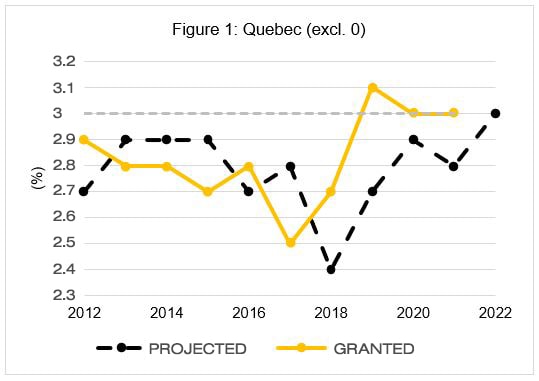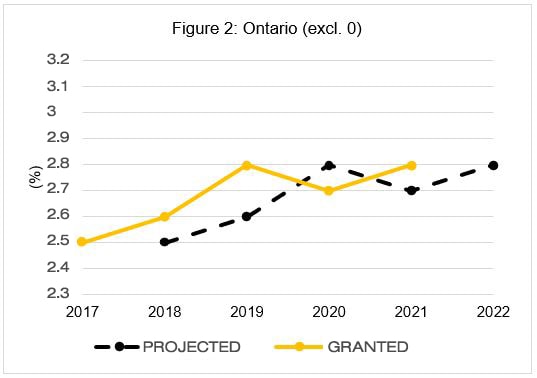 Economic forecasts
Gradual economic recovery
For the time being, several indicators seem to suggest an economic recovery beyond expectations, which could result in more generous salary increase budgets to make up for 2021. These indicators include, among other things:
Generalized labour shortage across Canada
Unemployment rate near pre-pandemic levels: 5.7% in Canada in the same period in 2019
Consumer Price Index (CPI) above the Bank of Canada's target range of 1% to 3%. The last time a similar rate was observed was 10 years ago. The steep increase in CPI in recent months is due to many factors, some that may endure for longer than expected.
The Bank of Canada and the Canadian government continue to support the economy.

While economic indicators support a recovery, salary increase budgets remain reasonable as they are at approximately the same level as before the pandemic.
Overall salary increase budget
Organizations that granted increases (excluding freezes) slightly exceeded last year's forecasts with an average increase of 2.8%.
Quebec remains the most generous province this year, with increases averaging 3% for 2022.
Averages by province for 2021 fall within a 0.2% difference compared with last year's forecasts, except for Prince Edward Island, where increases granted are far lower than forecast.
On average, salary increase budgets per province for 2022 are slightly higher than raises granted in 2021.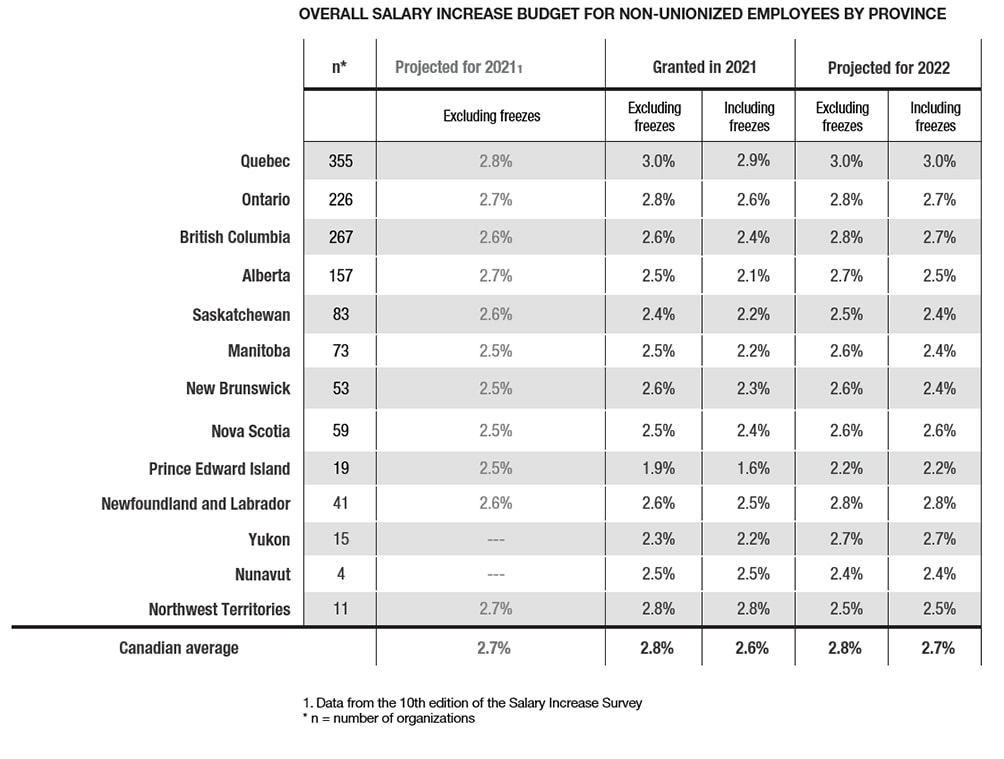 Salary structure increase
The average salary structure increases granted in 2021 in Canada is 2.1%, excluding organizations that decided to freeze their salary structure. The average drops to 1.7% when those organizations are taken into account, which is due to 13% of organizations freezing the salary structure of non-unionized employees.
Freezes in salary structures are less common in unionized jobs, with only 4% of increases frozen. This is mainly due to the collective agreements that guarantee increases over a period of two to five years.