April 2020
Salary increases in times of crisis
Due to the ongoing COVID-19 pandemic, the economy will undoubtedly face major obstacles in the coming months. As a result, organizations that have not yet allocated their salary increases may have to significantly downgrade their initial budgets.
And while only 3% of organizations were planning on freezing salaries in 2020[1], we're now anticipating a substantial increase in actual salary freezes. This spike could reach a level similar to the one observed during the 2008-2009 economic crisis, when more than 30% of organizations froze salaries while barely 2% of them had been planning on doing so prior to the crisis.
2020 forecasts
Salary freezes—as with the Bank of Canada's prime rate, the unemployment rate, GDP growth and the Consumer Price Index (CPI)—will have a significant impact on annual salary increases that will be granted by organizations in 2020.
Through a predictive analysis combining trends in key economic indicators (from 2002 to 2019) and Normandin Beaudry's annual salary forecast surveys, the following table illustrates the real impact of the financial crisis on salary increase budgets in 2009, as well as three potential scenarios for 2020: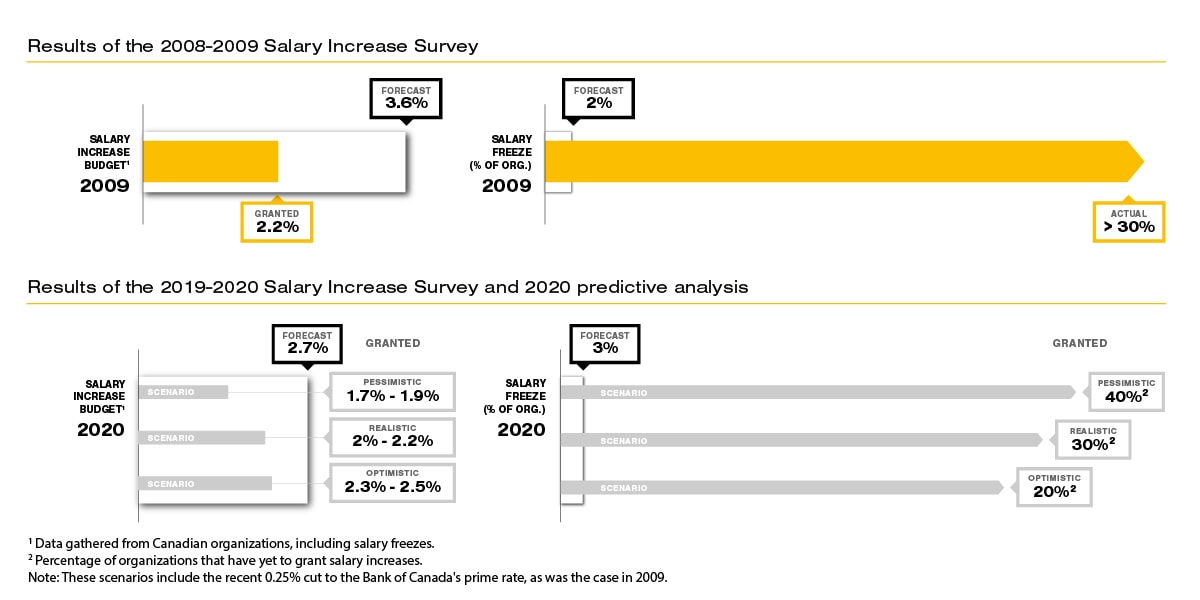 Repercussions for 2021
Compared to the 2009 financial crisis, which began to show signs in the fall of 2008, the 2020 economic contraction is occurring while more than 40% of organizations have already distributed their annual salary increases.
Therefore, when faced with a slow economic recovery, organizations will likely play it safe with regard to salary increases granted in 2021, particularly for industries most affected by the crisis. In this context, it should come as no surprise to see very low salary increase budgets and a significant percentage of salary freezes in 2020 as well as in 2021.
These forecasts will be monitored and confirmed in the next edition of Normandin Beaudry's annual Salary Increase Survey, scheduled for this summer, and through flash surveys to be conducted this fall, if needed.
[1] Data gathered from Canadian organizations, including salary freezes.
Our experts are working for you during this unprecedented crisis. Feel free to contact us if you have any questions.