October 2015
Rates for Health Care Professionals in 2015
During the summer of 2015, Normandin Beaudry conducted its 18th annual survey of fees charged by health care professionals in Quebec. Considering the fact that health care services provided by these specialists are typically covered by group benefits plans, we believe that the results presented below will be of interest to you.
The information on average fees per visit may prove useful in establishing reimbursement maximums for paramedical care under your group benefits plans. The average increase in fees per visit, in comparison with fees for 2014, also allows you to validate the inflation assumptions used by your insurer in renewing your health insurance premium rates. It should be noted that many specialists charge additional fees for opening a file and the initial assessment. These additional fees are not included in our survey results.
Methodology
We surveyed a sample of private clinics in the Montreal, Quebec City and Outaouais regions. The table below presents the results on an average fee per visit basis as opposed to an hourly rate basis to reflect the provisions that generally apply to group benefits plans.
For comparison purposes, we also consulted professional associations for each specialty. These associations make recommendations to their members concerning fees but do not impose them. Some associations also compile statistics based on the fee schedules of their members. This information is presented in the table below.
Highlights
We observed an average fee increase of about 3% in the Montreal and Quebec City regions since the summer of 2014, which represents an average increase of approximately $2 per visit.
Average fees for the Outaouais region are comparable to last year's fees. It should be noted, however, that the fees charged by kinesiologists and occupational therapists have decreased since last year and are now comparable to the fees observed in the Montreal and Quebec City regions.
The fees charged by naturopaths have also decreased since last year in all of the regions surveyed. This decrease is largely due to the length of the visit, which has also decreased in all regions since last year.
The results indicate that for physiotherapists, acupuncturists and podiatrists, the fees charged in the Montreal region are much higher than in the other regions.
In Quebec City, even though the per visit fee charged by dieticians is lower than the per visit fee charged last year, it continues to be higher than the per visit fee charged by dieticians in the other two regions. Fees for other health care professionals are typically lower in the Quebec City region, especially for audiologists, speech therapists and homeopaths.
As in previous years, per visit fees charged by homeopaths, naturopaths and psychologists in the Outaouais region are considerably higher than the fees charged by these professionals in the other regions.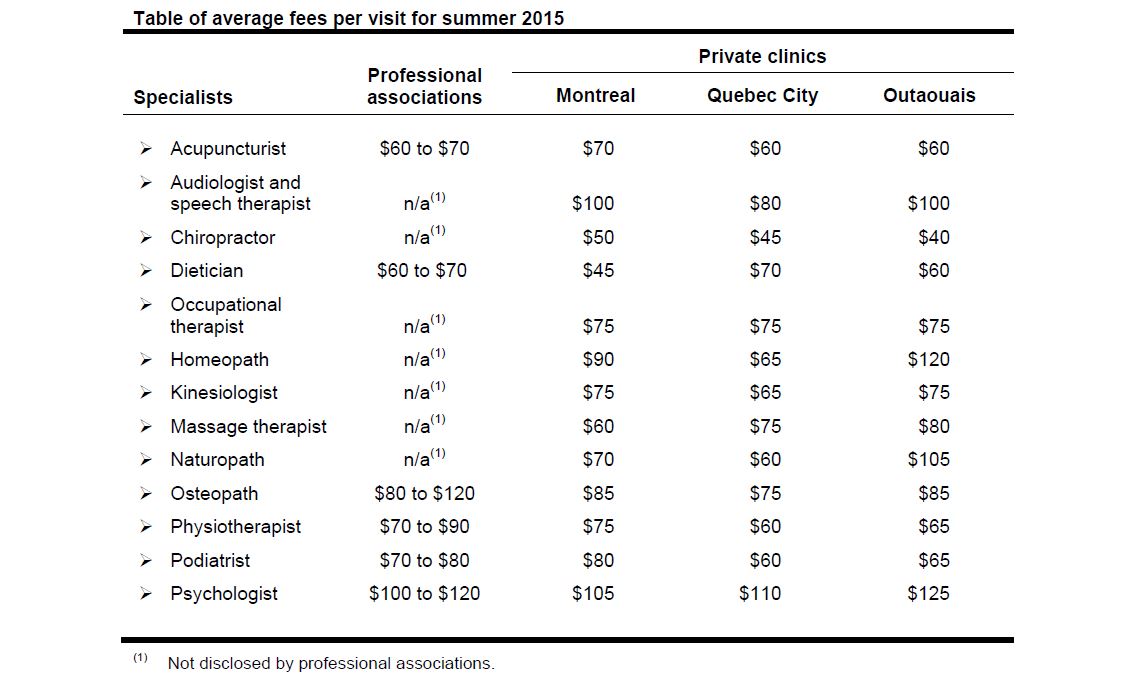 Market trends
Our databases indicate that approximately 20% of health care claims submitted are for health care professionals.
Premiums for most group health care plans are increasing. An effective cost control measure for health care professionals is to have combined reimbursement maximums grouping several or all of the health care professionals covered by the plan. According to rémun, Normandin Beaudry's total compensation survey, approximately 40% of organizations have combined reimbursement maximums for health care professionals.
In recent years, we have observed that insurers have been managing health care professionals claims more closely. They now commonly exclude service providers that have been convicted of fraud. Many insurers have also created a list of recognized orders and associations based on specific criteria (training, continuous development, etc.), and only reimburse fees charged by health care professionals belonging to these orders and associations.
Please feel free to contact us for additional information.