December 2016
New REALpac/IPD Index for Canadian Real Estate Investments
Real estate investments continue to grow in popularity among institutional investors, especially pension funds. Today, these investments are considered a core part of an asset allocation alongside stocks and bonds.
Unlike investments traded on the stock market, real estate investment portfolios each hold unique properties whose real market values are known only after a transaction. This presents challenges with respect to the choice and construction of a benchmark index.
Many institutional investors currently use the REALpac/IPD Canada Quarterly Property Index (the "PI" index) to monitor the Canadian real estate market. This index was launched in 1999, and its depth is an excellent market barometer thanks to its representativeness of Canadian commercial real estate properties of all sizes and sectors. The PI index has, however, received some criticism when used to measure manager performance. This is why the recent arrival of the REALpac/IPD Canada Quarterly Property Fund Index (the "PFI" index) was eagerly anticipated. Inspired by real estate indexes that have existed in the United States for many years, this new index tracks the performance of a group of "core" open-ended funds.
The PI index consists of data from 46 portfolio managers. With over 2,400 properties covered and a total property value of $139 billion¹, the PI index has the advantage of representing in-depth the Canadian commercial real estate sector.
The PFI index monitors the performance of seven "core" open ended-funds covering 870 properties, for a total value of $22 billion¹ in assets under management. Despite its lesser representativeness of the Canadian real estate market, this index has several desired characteristics in the establishment of a benchmark.
Consequently, we believe institutional investors with real estate investments should analyze the merits of the new PFI index as a benchmark in their investment policy—in terms of regular performance monitoring and/or monitoring over longer periods.
In order to take into account the potential issues raised by the new index, we have conducted an in-depth analysis of the differences between the PI index and the PFI index by comparing the characteristics sought in an index for use as a benchmark. The following table summarizes our findings. The characteristics favourable to valuing fund performance are indicated in bold.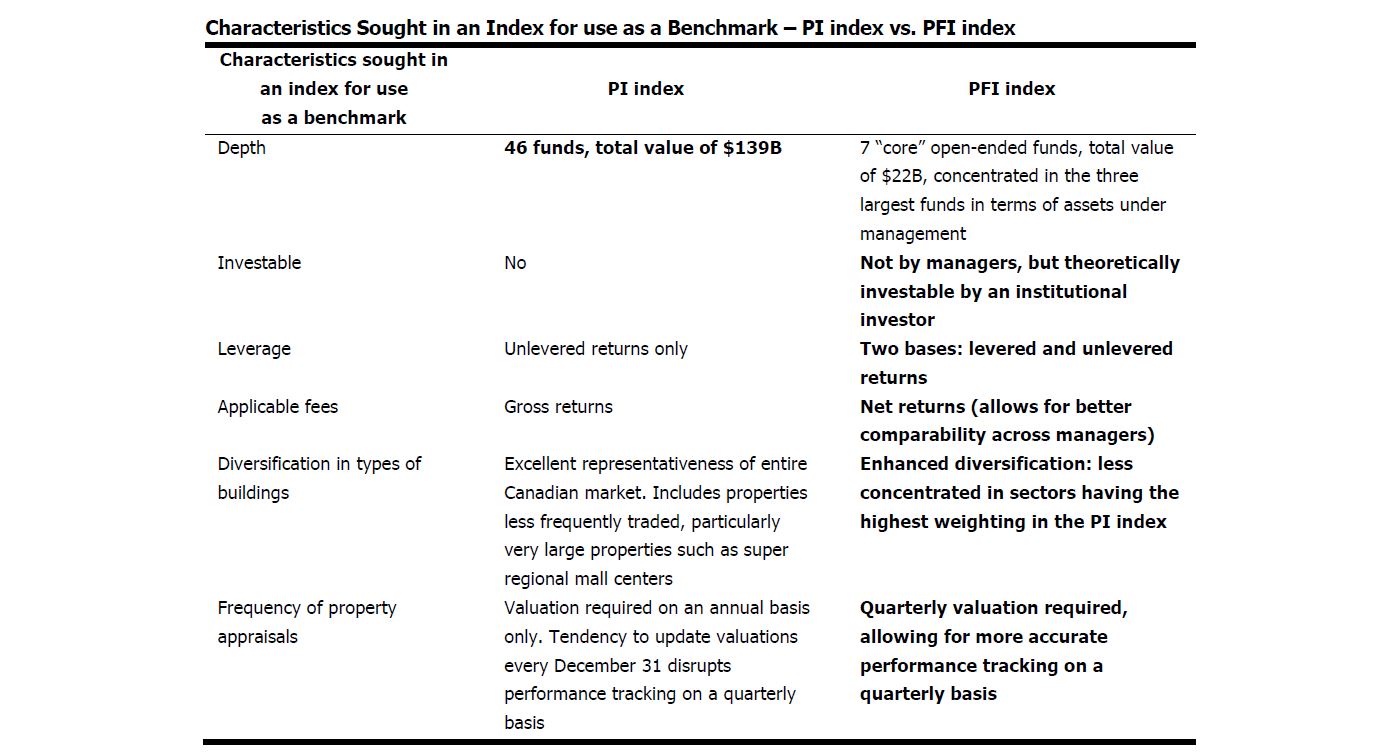 ¹  Source: MSCI, June 30, 2016
Please feel free to contact us for additional information.