September 2020
COVID-19 relief measures: OSFI lifts the freeze on transfer value payments
On August 31, the Office of the Superintendent of Financial Institutions (OSFI) announced the lifting of the freeze on transfer value payments and buy-out annuity purchases for federally regulated defined benefit pension plans, basing its decision on improved solvency ratios since the market lows of mid-March. This freeze was announced on March 27 in the wake of a series of temporary measures in response to the COVID-19 crisis (see our bulletin regarding these measures).
While similar, the conditions for making a transfer value payment differ slightly from the ones in place prior to the freeze. The key differences are: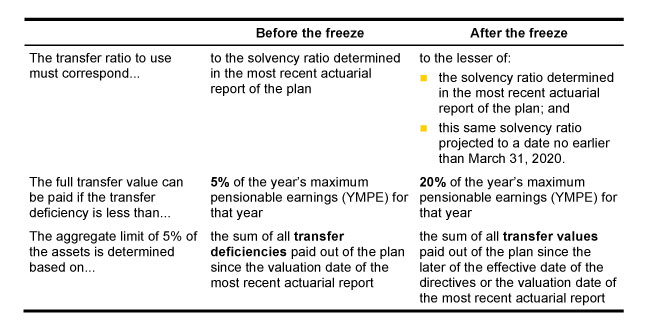 REQUIRED ACTIONS
Administrators must now process elections for members whose transfer had been suspended and ensure compliance with OSFI's new directives.
NEXT STEPS
OSFI will continue to monitor financial market volatility and pension fund solvency, and could reintroduce certain measures should the need arise.
The next step expected by most sponsors remains the start of consultations for relief measures related to pension plan funding for 2021, announced by the federal government earlier this spring.
Would you like more information? Contact your Normandin Beaudry consultant or email us.