January 2021
Improving access to pharmaceutical services in Quebec
On December 16, 2020, the regulations under Bill 31 were given assent. As a result, the removal of the cost of several pharmaceutical services will improve access to them and help to continue expanding the role of pharmacists as front-line professionals. These amendments take effect on January 25.
Since June 2015, pharmacists have been allowed to render a range of services. Until now, all pharmaceutical services were covered by the Régime général d'assurance médicaments (RGAM). Private group benefits plans covered them according to the same financial parameters as the drug coverage. Deductible- and co-pay-related fees remain at the patients' expense.
From now on, certain services will be directly funded by the Régime d'assurance maladie du Québec while other services covered by the RGAM will also have to be reimbursed in whole by private group benefits plans.
The following table summarizes the services and funding that will take effect starting January 25, 2021.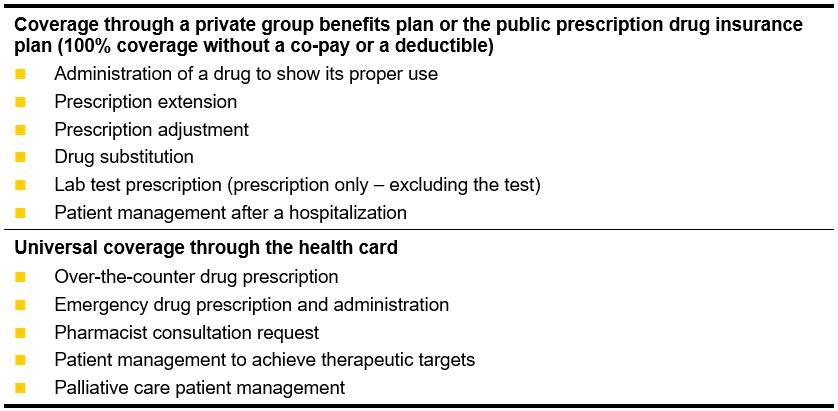 Impact on private group benefits plans
There is no expected financial impact on private group benefits plans because pharmaceutical services make up a very small proportion of private health insurance plan costs. Since certain services will now be covered without deductibles or co-pays for patients, private group insurance plans will have to absorb increased fees related to the discharging of these services. However, this increase could be compensated by the transfer of certain services to the universal health insurance coverage. Since the anticipated impact is minor, no insurers have informed their customers that they would adjust rates in the short term.
Normandin Beaudry's consultants are monitoring the situation closely and will keep you informed of any developments.
For more information about this topic, contact your Normandin Beaudry consultant or email us.